There are currently, 128 guest(s) and 1 member(s) that are online.

You are Anonymous user. You can register for free by clicking here
Don't have an account yet? You can create one. As a registered user you have some advantages like theme manager, comments configuration and post comments with your name.
There is no New Story for Today, yet.
We received
59287101
page views since 01.01.2005
News in In Situ Hybridization
RNAscope®: in situ RNA
RNAscope® is a new way of visualizing RNA markers in situ, revealing molecular profile you could never see before.
Now, see and measure gene expression in every cell, all within the intricate cellular and tissue architecture of routine clinical specimens.

RNAscope® detects RNA in situ, down to single copy, a breakthrough opening up a world of new possibilities.

Although ISH/FISH-based in situ RNA detection techniques have been around for years, they are largely ineffective. They lack robustness and sensitivity to reliably detect the expression of most human genes. Microarray and PCR provide useful molecular profiles of diseases, but clinically relevant information regarding cellular and tissue context, as well as spatial variation of the expression patterns, is lost in the process.

RNAscope® provides the first opportunity to profile single cell gene expression in situ, unlocking the full potential of RNA biomarkers. The targeted molecular signature of every cell in a sample is revealed and measured precisely, all within the intricate cellular and tissue architecture of clinical specimens.

RNAscope® is the only technology that has the sensitivity to detect every gene in the human transcriptome in situ, and to simultaneously quantify multiple mRNA transcripts at a single cell level. This represents a game-changing breakthrough previously unattainable by any other approach.

What is RNAscope®? - Advanced Cell Diagnostics, Inc. (ACD)



Posted by
admin
on Tuesday, May 31 @ 11:13:50 CEST (4607 reads)
(
Read More...
| Score: 0)
Locked nucleic acid (LNA™)




This is a presentation of Exiqons miRCURY LNA™ microRNA Detection Probes for In Situ Hybridization.






Locked nucleic acid (LNA™) nucleosides are a class of nucleic acid analogues in which the ribose ring is "locked" by a methylene bridge connecting the 2'-O atom and the 4'-C atom. LNA™ nucleosides contain the six common nucleobases (T, C, G, A, U and mC) that appear in DNA and RNA and are able to form base pairs according to standard Watson-Crick base pairing rules. However, by "locking" the molecule with the methylene bridge the LNA™ is constrained in the ideal conformation for Watson-Crick binding. When incorporated into a DNA oligonucleotide, LNA™ therefore makes the pairing with a complementary nucleotide strand more rapid and increases the stability of the resulting duplex.

LNA™ Oligonucleotides
An LNA™-enhanced oligonucleotide is the ideal choice whenever short or very similar sequences need to be analyzed. The high affinity of an LNA™ oligonucleotide to its complementary sequence results in higher specificity and sensitivity than when using traditional DNA or RNA sequences. In many cases, LNA™-enhanced oligonucleotides can distinguish between sequences differing by a single nucleotide, which can be critical for the success of many experiments.


www.exiqon.com


Posted by
admin
on Friday, February 20 @ 08:55:25 CET (3915 reads)
(
Read More...
| 3252 bytes more | Score: 0)
Cold Spring Harbor Protocols
Cold Spring Harbor Laboratory is renowned for its teaching of biomedical research techniques. For decades, participants in its celebrated, hands-on courses and users of its laboratory manuals have gained access to the most authoritative and reliable methods in molecular and cellular biology. Now that access has moved online.

Cold Spring Harbor Protocols is a definitive, interactive source of new and classic research techniques. The database is fully searchable by keyword and subject, and it has many novel features—such as discussion forums and personal folders—made possible by online publication. Its coverage includes cell and molecular biology, genetics, bioinformatics, protein science, and imaging. Protocols are presented step-by-step and edited in the style that has made Molecular Cloning, Antibodies, Cells and many other CSH manuals essential to the work of scientists worldwide. Protocols will be continuously expanded, updated, and annotated by the originators and users of the techniques.

CSH Protocols, Free Featured Protocols
Cold Spring Harbor Protocols


Posted by
admin
on Wednesday, January 07 @ 11:18:30 CET (2446 reads)
(
Read More...
| Score: 0)
Gallus Expression In Situ Hybridization Analysis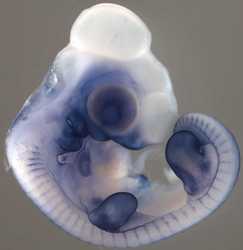 The online repository for chicken in situ hybridization information. This site presents whole mount in situ hybridization images and corresponding probe and genomic information for genes expressed in chicken embryos.

The goals of the GEISHA project are to obtain whole mount in situ hybridization expression information for all differentially expressed genes in the chicken embryo between HH stages 1-25, to integrate expression data with the chicken genome browsers, and to offer this information through a user-friendly graphical user interface.

Geisha


Posted by
admin
on Monday, January 05 @ 11:19:26 CET (2585 reads)
(
Read More...
| 976 bytes more | Score: 0)
Review Paper Describes Development and Use of New Enzyme Metallography (EnzMetTM) Reagent for In Situ Hybridization

Nanoprobes, Incorporated has developed a new system for super-sensitive, high-resolution detection for use in in situ hybridization (ISH) and immunohistochemistry (IHC). The new process uses an enzyme-linked probe to deposit metal from solution at a target site; this provides a dense, punctate, high resolution black stain which is readily distinguished from other commonly used stains. This new detection method, termed "Enzyme Metallography" (EnzMetTM) has several important advantages for pathology and tissue study. It is visualized in the conventional brightfield light microscope, and hence does not require the use of fluorescent optics or dark adaptation on the part of the user. It provides a permanent record, with no fading or photobleaching; and it can visualize single copies of even non-amplified genes.

The development of this method and its application to HER2 gene amplification in breast cancer are described in a review in the August issue of Human Pathology. Nanoprobes recently signed a deal with Ventana Medical Systems, Incorporated, for commercial development and use of this reagent in their automated slide staining instruments. As a result, the first commercial product has now been introduced in Europe; it is called SISH (Silver In Situ Hybridization). Introduction of SISH in the United States is pending FDA approval. In addition, Nanoprobes will shortly introduce a commercial EnzMetTM formulation optimized for research applications and non-automated staining.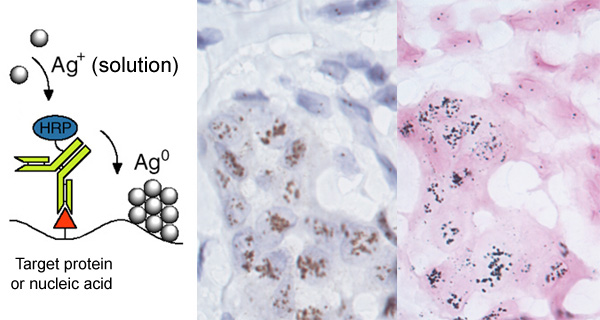 Reference:
Powell, R. D.; Pettay, J. D.; Powell, W. C.; Roche, P. C.; Grogan, T. M.; Hainfeld, J. F., and Tubbs, R. R.: Metallographic in situ hybridization. Hum. Pathol., 38, 1145-1159 (2007). Article (pdf)
Posted by
admin
on Monday, December 03 @ 15:11:03 CET (16744 reads)
(
Read More...
| Score: 4.42)
A Novel Method for Multiple Labeling Combining In Situ Hybridization With Immunofluorescence

In situ hybridization (ISH) is a particularly useful method to investigate de novo mRNA expression in tissue sections. High specificity and sensitivity of this technique combined with the great preservation of tissue and cellular morphology conferred by fixatives such as 4% paraformaldehyde, pH 9.5, make ISH a tool of choice for detecting genes of interest in individual cells in the central nervous system (CNS). Here we describe a novel method that combines radioactive ISH with immunofluorescence on the same tissue section to identify cell populations expressing selected mRNA transcripts. This novel method has several major advantages over previously described double-labeling light microscopic methods combining enzymatic immunohistochemistry and ISH including complete protection against loss of hybridization signal that normally occurs during the immunoenzymatic reaction, improved immunolabeling sensitivity due to the proteinase K digestion step during ISH, detection of several proteins specific for different cell populations on the same tissue section, and counterstaining of tissue sections without affecting visualization of immunolabeling. This new method will be particularly useful for investigators looking to identify cell populations producing mRNAs expressed in low abundance such as cytokines, chemokines, and growth factors in the intact and/or injured mammalian CNS.(J Histochem Cytochem 54:1303–1313, 2006)

Journal of Histochemistry and Cytochemistry Volume 54 (11): 1303-1313, 2006
Posted by
admin
on Sunday, November 05 @ 13:17:36 CET (3851 reads)
(
Read More...
| Score: 5)
Roche Diagnostics GmbH and GeneDetect finalize worldwide licensing agreement.

Dr Paul Hughes, CEO of GeneDetect. "Today I am happy to announce that GeneDetect has negotiated a broad license to the valuable Roche Diagnostics GmbH, Digoxigenin/Digoxin patent portfolio for the detection of nucleic acids. This license will allow GeneDetect to release a range of new products incorporating Digoxigenin/Digoxin. We expect these products to become available early in 2006".

GeneDetect.com


Posted by
admin
on Sunday, March 26 @ 09:10:55 CEST (4356 reads)
(
Read More...
| Score: 3.66)
Polysomy of chromosome 17 in breast cancer
Polysomy of chromosome 17 in breast cancer tumors showing an overexpression of ERBB2: a study of 175 cases using fluorescence in situ hybridization and immunohistochemistry

Abstract

Introduction

One of the most common genetic aberrations associated with breast cancer is the amplification and overexpression of the ERBB2 proto-oncogene located at chromosome 17, bands q12-21. The amplification/overexpression occurs in 25 to 30% of all breast cancers. In breast cancer, aneusomy of chromosome 17, either monosomy or polysomy, is frequently observed by conventional cytogenetics and fluorescence in situ hybridization (FISH). The aim of this study was to discover whether or not numerical aberrations on chromosome 17 have a correlation to the amplification or overexpression of the ERBB2 gene and to analyze their clinical implications in subgroups showing 2+ or 3+ positive scores by immunohistochemistry (IHC).

Methods

We used FISH on a series of 175 formalin-fixed paraffin-embedded breast carcinomas to detect ERBB2 amplification, using a dual-probe system for the simultaneous enumeration of the ERBB2 gene and the centromeric region of chromosome 17, as well as using IHC to detect overexpression. We analyzed clinical and pathological variables in a subgroup of patients with 2+ and 3+ IHC scores (147 patients), to describe any differences in clinicopathological characteristics between polysomic and non-polysomic cases with the use of the χ2 test.

Results

We found 13% of cases presenting polysomy, and three cases presented monosomy 17 (2%). According to the status of the ERBB2 gene, instances of polysomy 17 were more frequently observed in non-amplified cases than in FISH-amplified cases, suggesting that the mechanism for ERBB2 amplification is independent of polysomy 17. Polysomy 17 was detected in patients with 2+ and 3+ IHC scores. We found that nodal involvement was more frequent in polysomic than in non-polysomic cases (P = 0.046).

Conclusions

The determination of the copy number of chromosome 17 should be incorporated into the assesment of ERBB2 status. It might also be helpful to differentiate a subgroup of breast cancer patients with polysomy of chromosome 17 and overexpression of ERBB2 protein that probably have genetic and clinical differences.

Keywords: breast cancer, ERBB2 gene, fluorescence in situ hybridization, immunohistochemistry, polysomy 17


Posted by
admin
on Tuesday, March 14 @ 08:29:31 CET (4905 reads)
(
Read More...
| 30794 bytes more | Score: 5)
Immunohistochemistry News